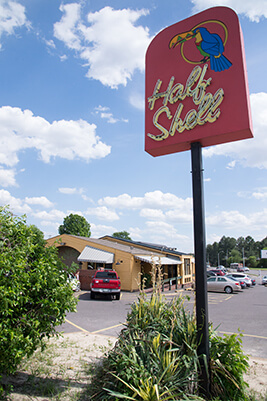 A Memphis institution, the original Half Shell opened in 1973 on the northwest corner of Poplar Avenue and Mendenhall in east Memphis. Ten years later, in order to have more space, we moved across the street to our current location at 688 S. Mendenhall. On February 12, 2003 our first expansion took place with the opening of The Half Shell at Southwind, located at 7825 Winchester Road in southeast Memphis. The new and improved model features an open kitchen, an oyster bar and a beautiful patio.
The Half Shell has won numerous awards in The Commercial Appeal, Memphis Magazine and The Memphis Flyer, including first-place awards for Best Seafood for 2017-18. As a proud member of the Memphis community, the Half Shell supports and participates in a wide variety of charity events, such as Soup Sunday, the Empty Bowls Project and Cirque du CMOM.
Come and experience our award-winning cuisine, featuring fresh seafood and New Orleans-inspired fare.